When you right-click a folder or file, you can access the context menu that gives you the options Share, Get Share Link, Manage Revision, Open in Web Browser, and Force Refresh.
Enable Mac Client Context Menu
Note:
The new macOS Big Sur has improved security.

After installing the new Mac client and logging in, the Mac Client Finder Extension is not enabled by default. You need to enable it manually.  
(1) Open the Mac System Preferences
(2) Go to Extensions. Enable "Finder Extensions" for Triofox Mac Client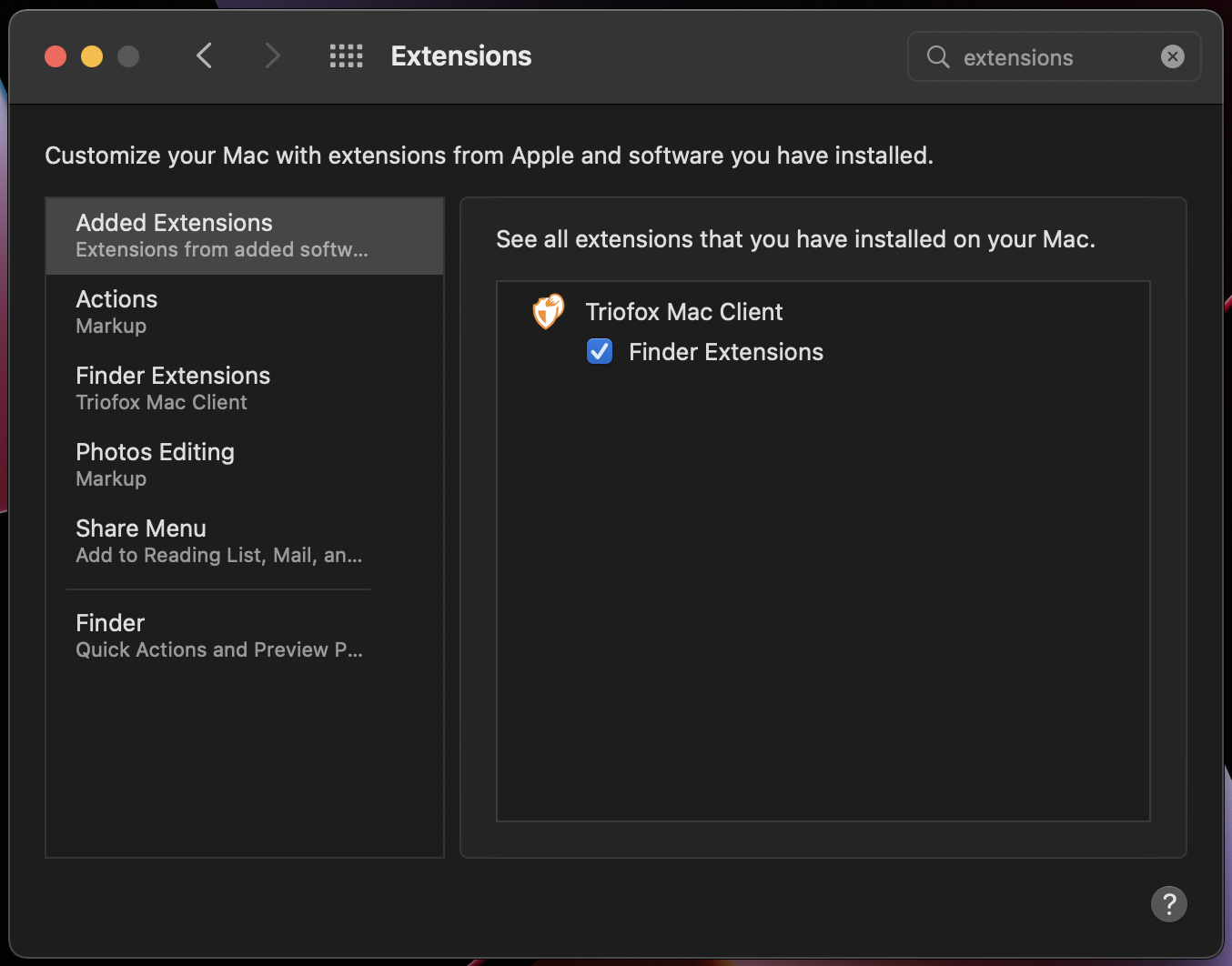 (3) Bring up the Mac Client drive again and you should see an icon overlay. Right-click on any file/folder and the Mac Client context menu will be visible.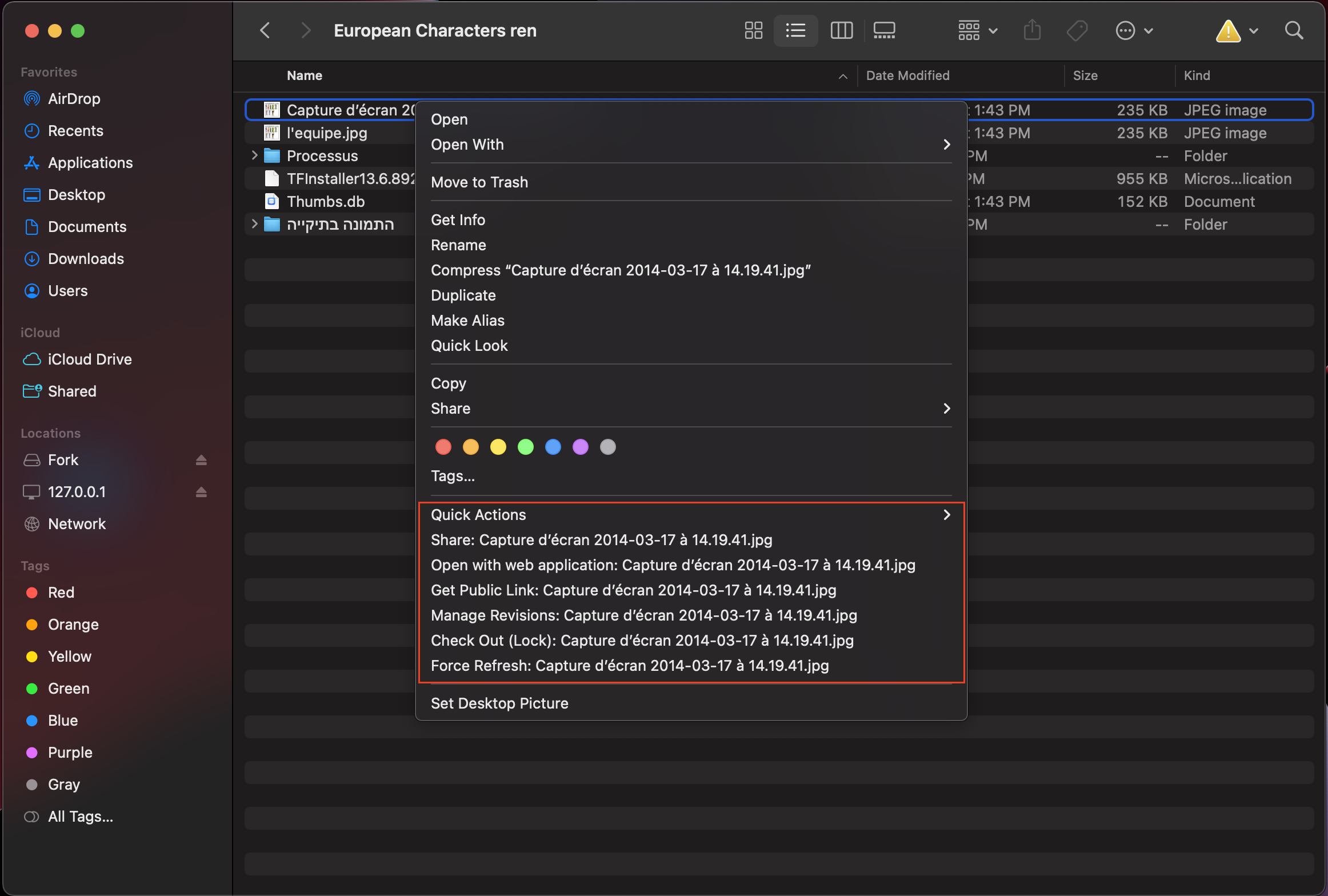 Share

To share a file or folder, simply right-click on it and select Share from the menu: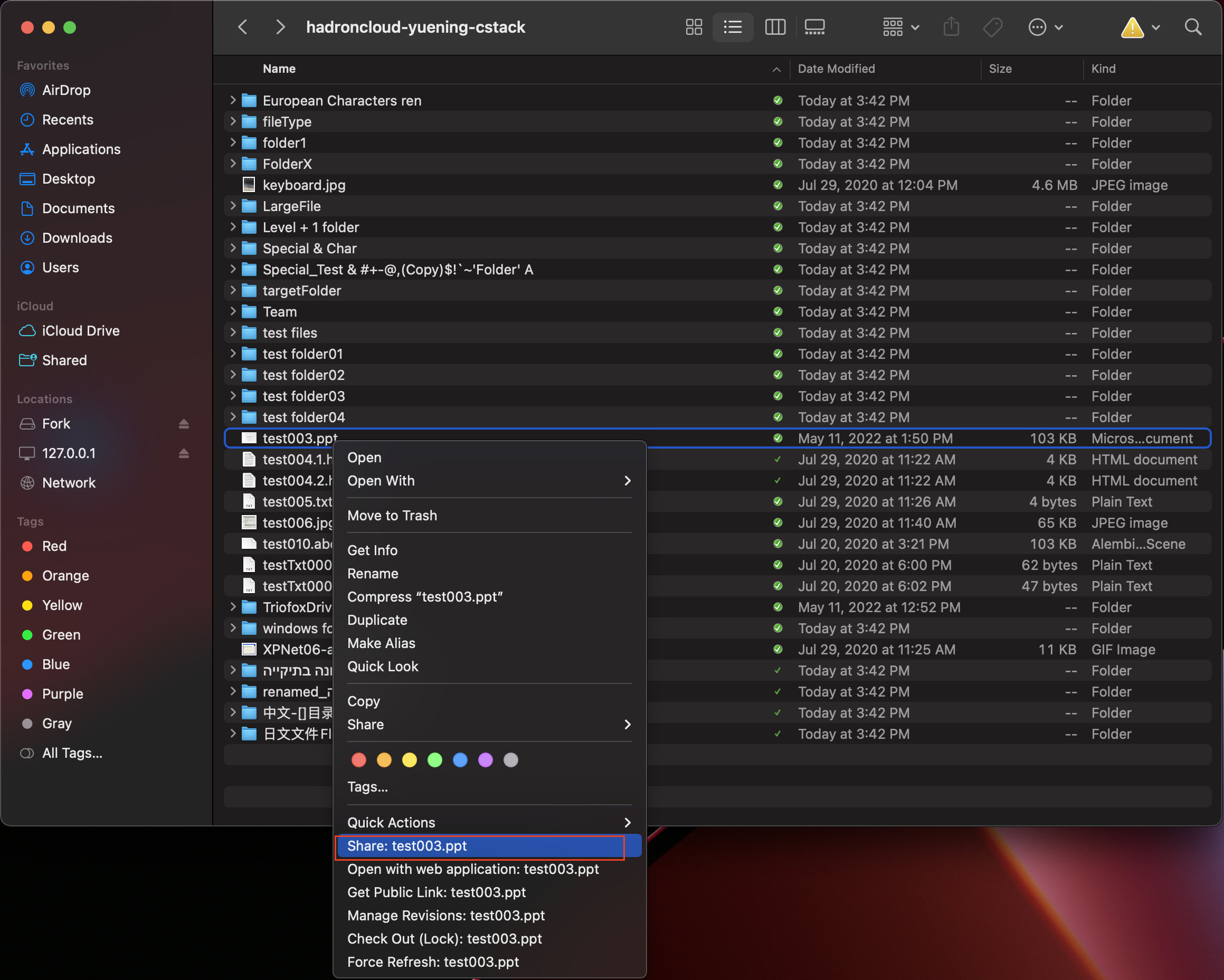 A window will open that allows you to share it. To set this up:
(1) Enter the email address(es) of the users you want to share, separated by semicolons (;).
(2) Click CONTINUE.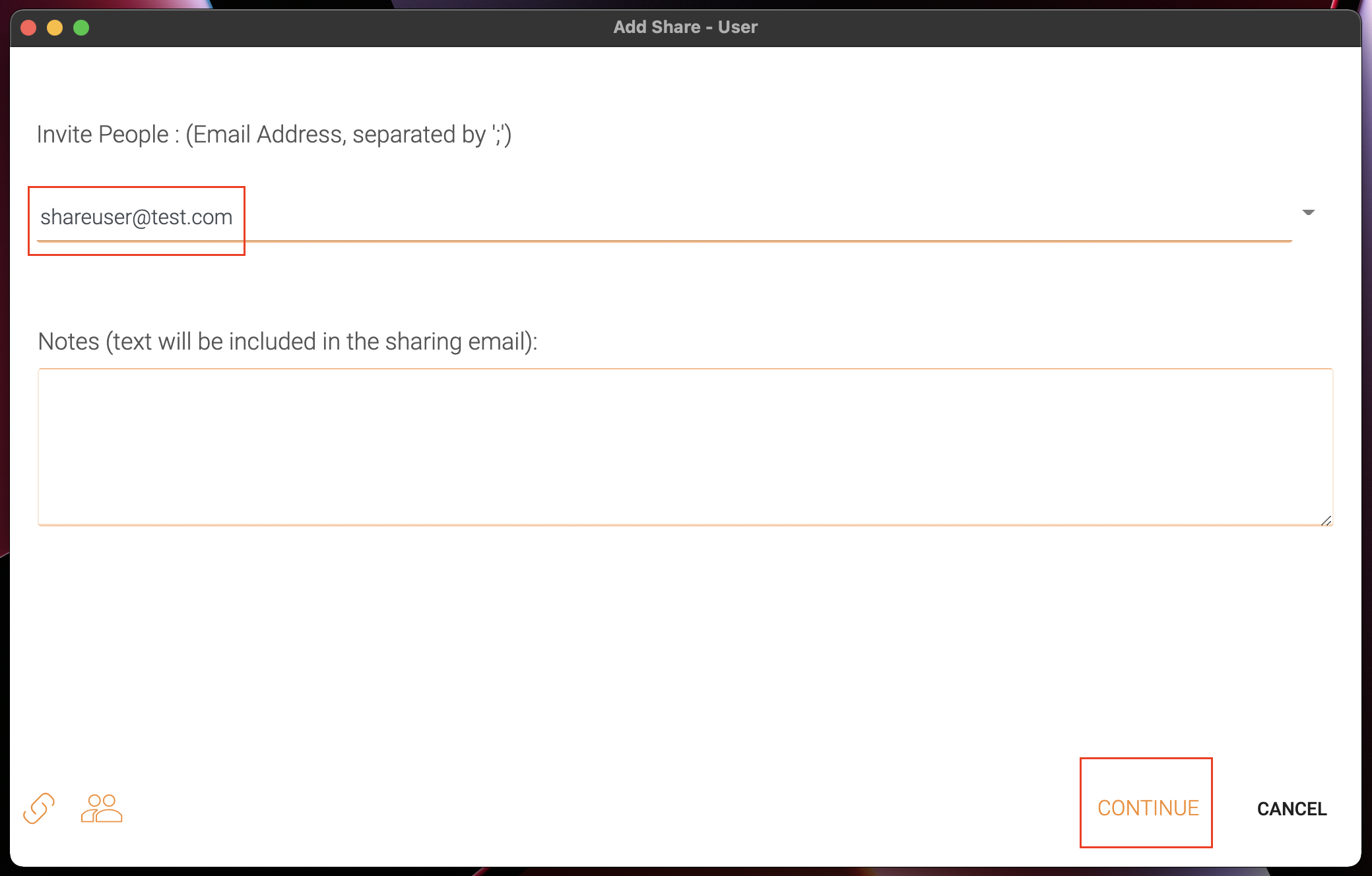 In the next window you can choose the Share preferences: Expiration time, access rights (read only, view only, full control).
(3) After selecting the options, click SAVE. This will send emails to the guest users.
(4) Or click GET LINK, this will open a window with the URL that you can use to create a custom email or use some other methods to communicate with the guest users.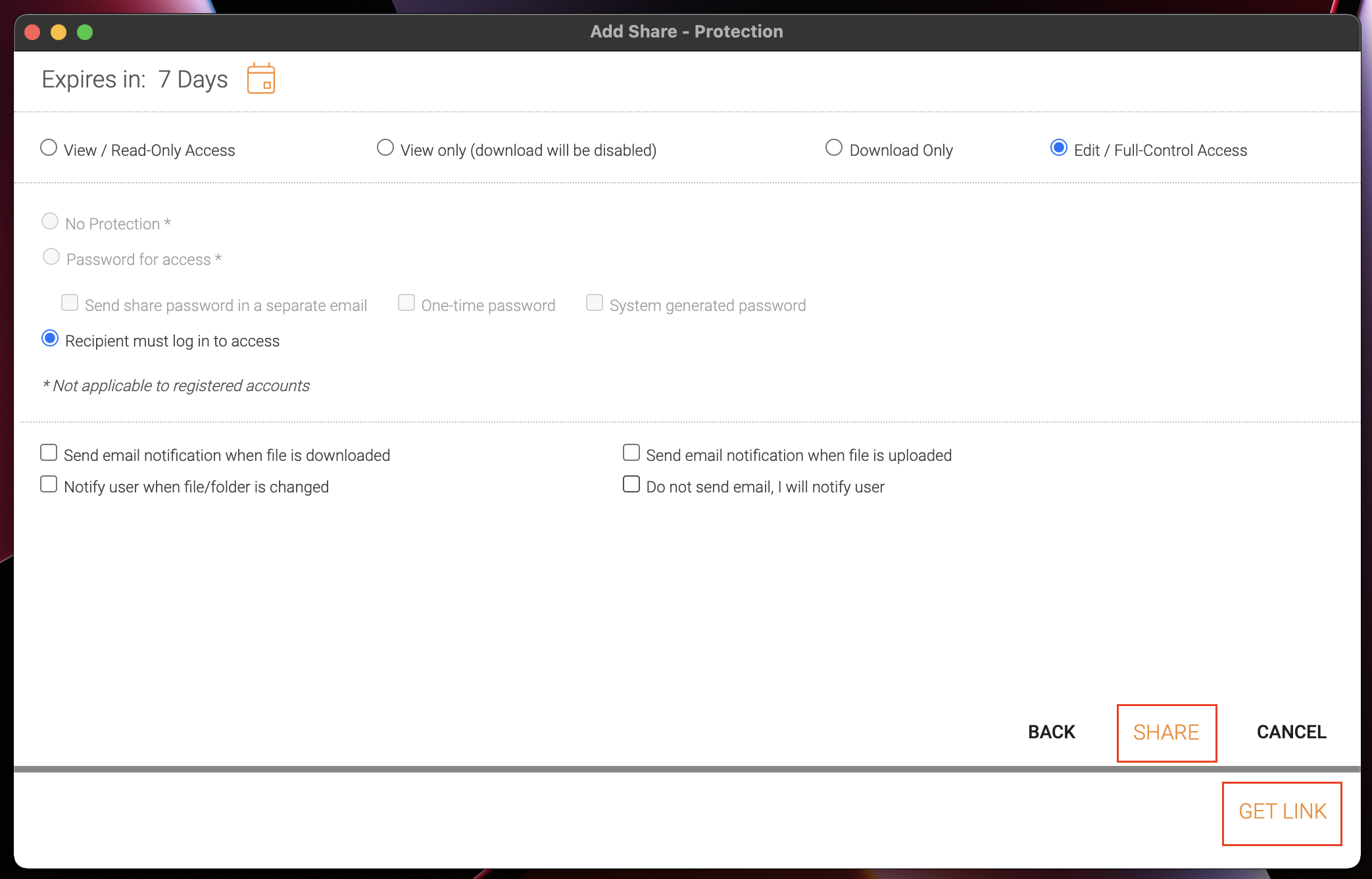 Edit Share

If a file or folder is already shared, you can right-click the shared file or folder and select Share to bring up the edit share menu.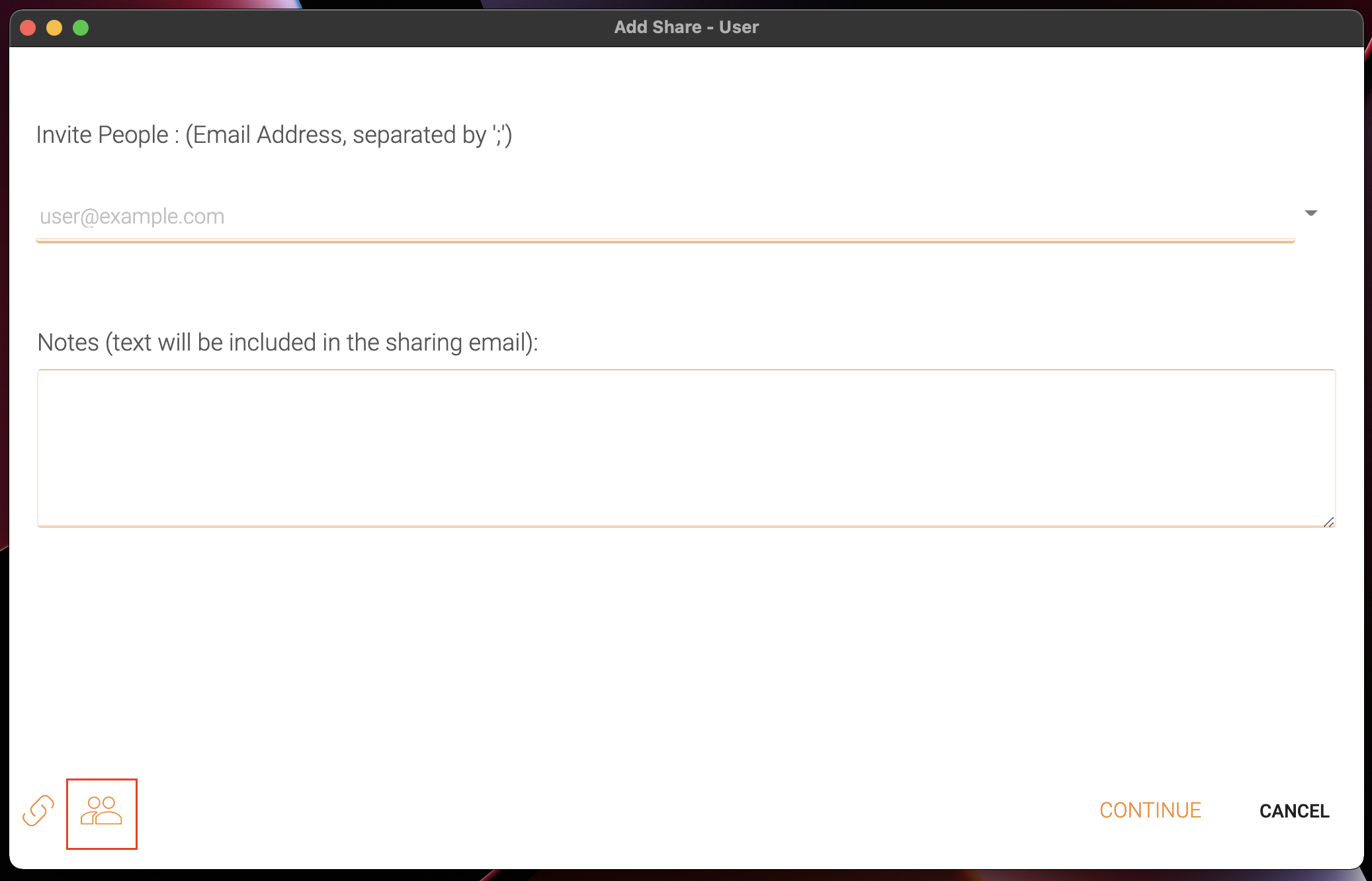 Here you can delete the share, edit it, resend the notification email, view the share link, and enable/disable the public link.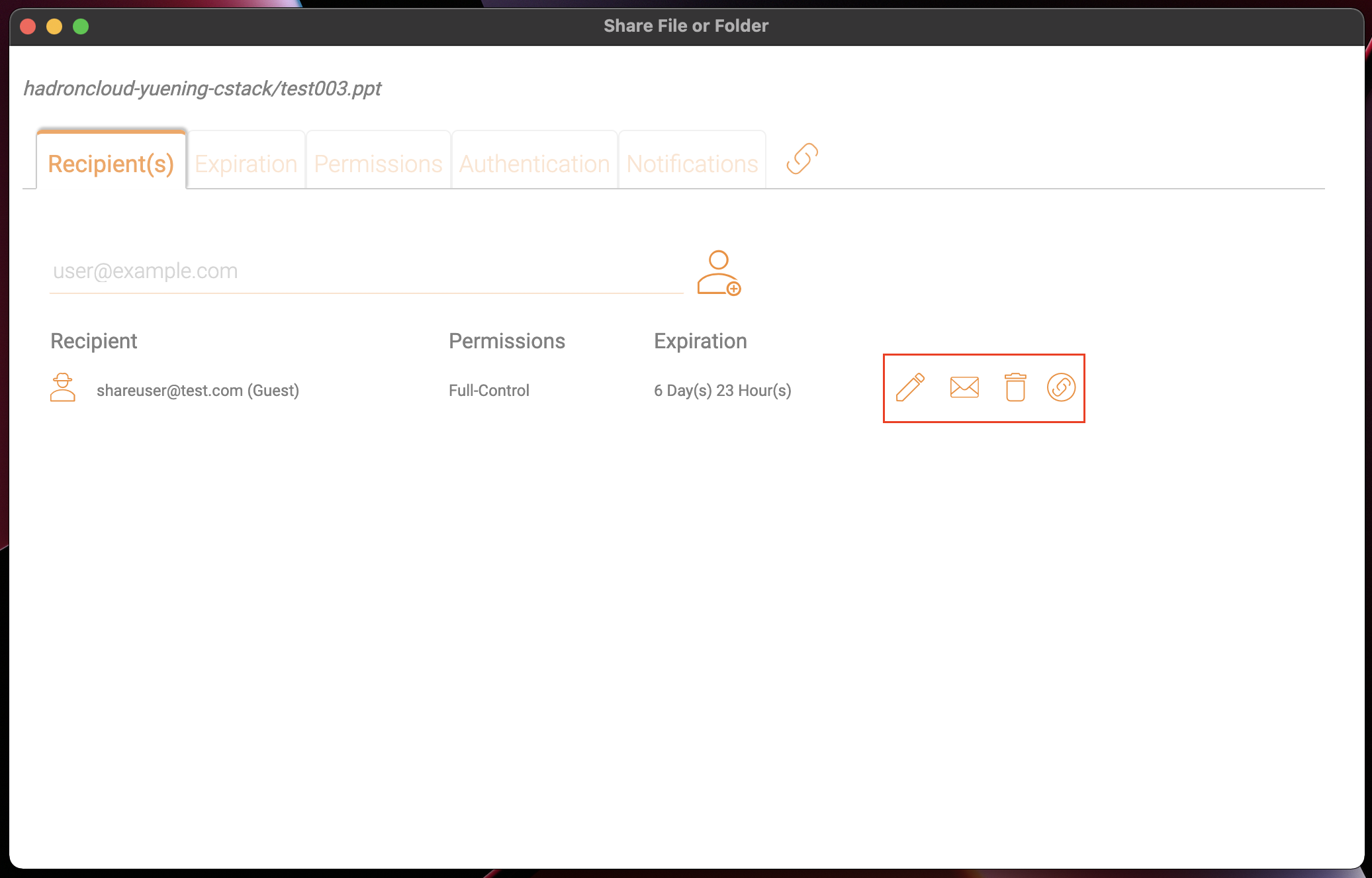 Get Public Link

Allows you to get a read-only web link to the file. This option allows you to share a file as a public (Read-Only) link. Anyone who has the link can access this file. Click this option to copy the public link to your clipboard. Once you click "Ok", you can paste the link anywhere (for example, in emails or social media).
Request File

The file request applies only to folders and allows invited users (or users with the link) to upload files to the shared destination without seeing the content.

To request a file, right-click a folder, and then select Request File.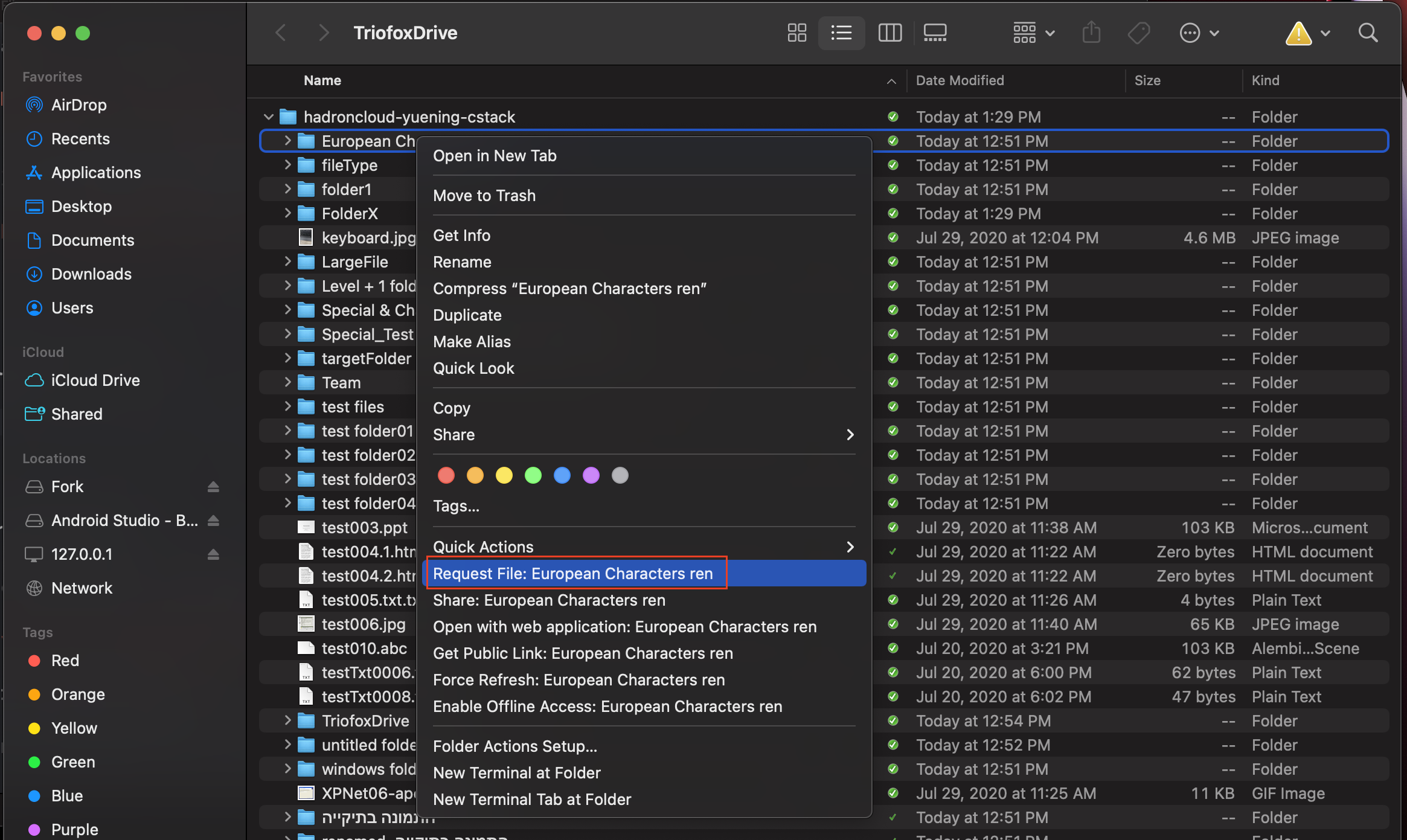 Enter the email address(es) of the users you want to share the file with, separated by semicolons (;), and then click SEND EMAIL. You can also click GENERATE LINK to send the link to other users.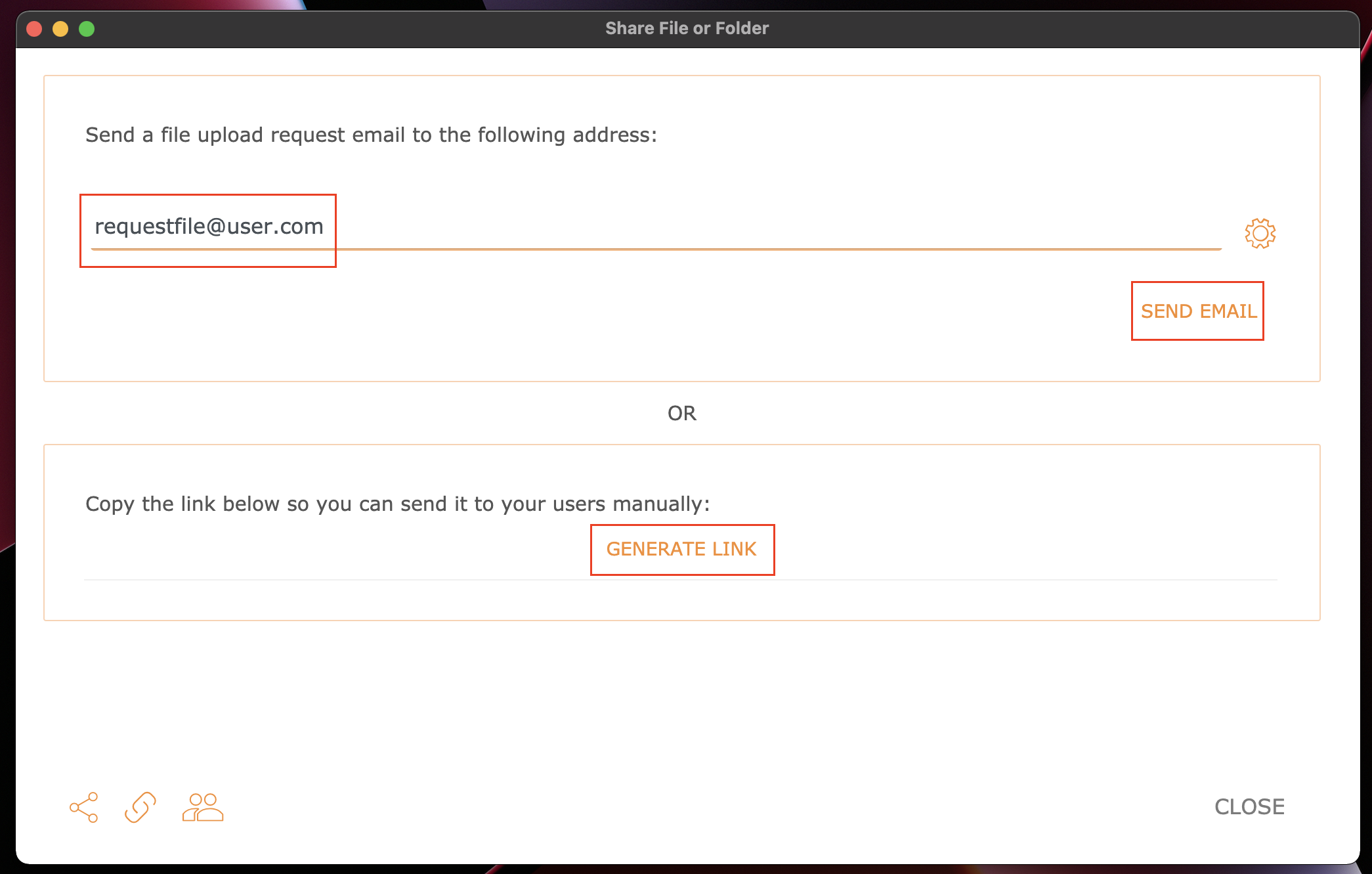 Check Out (Lock) / Check In (Unlock)

You can check out files for editing. To do so, right-click on the file in your Triofox Drive, select "Check Out" from the context menu, and select "Yes" in the pop-up window.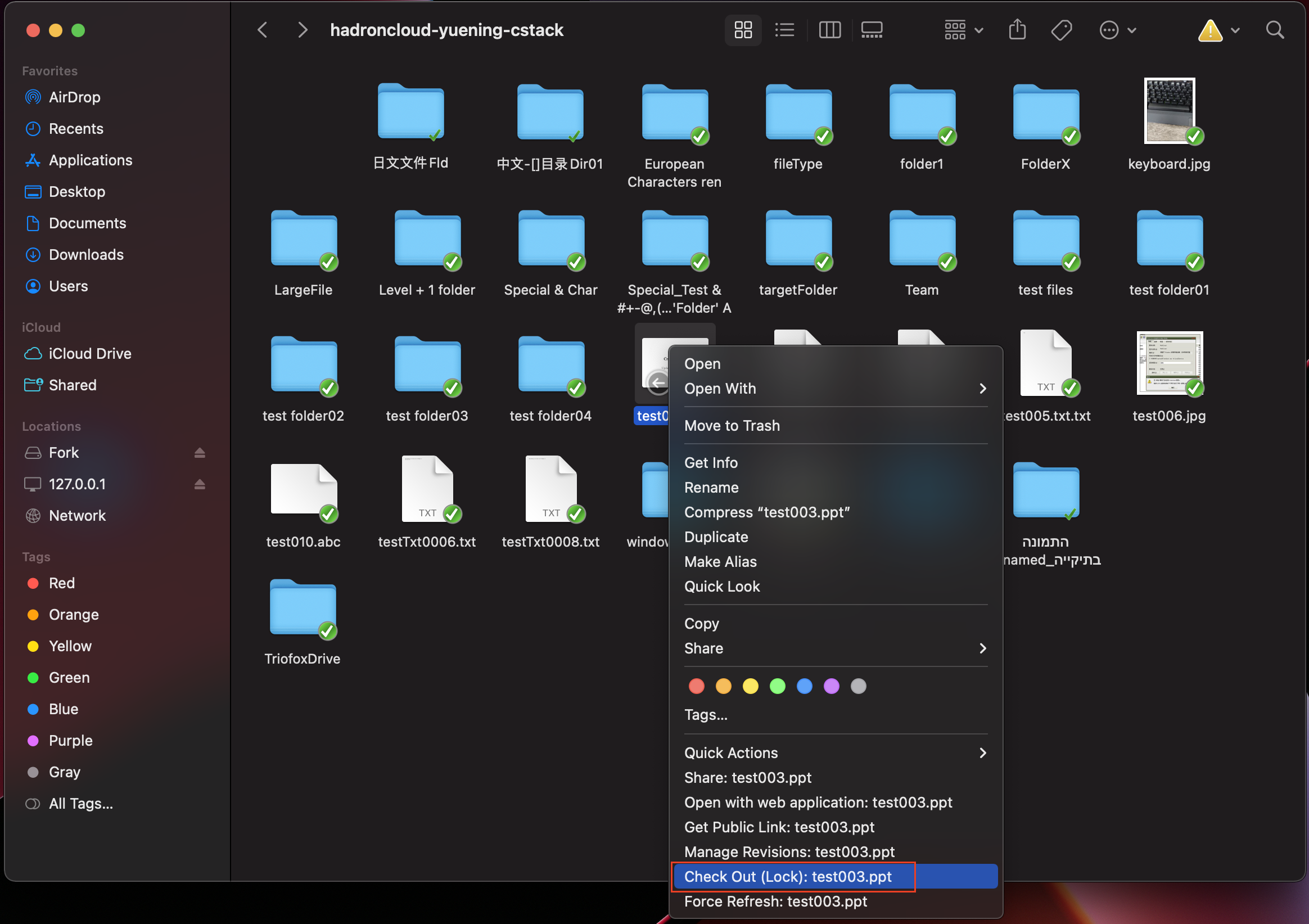 Offline Folders

Users can mark certain folders as offline. Folders marked as offline prefetch the contents of the folder and cache them locally.

To achieve this, first right-click on a folder in Triofox Drive and then select Enable Offline Access to this folder.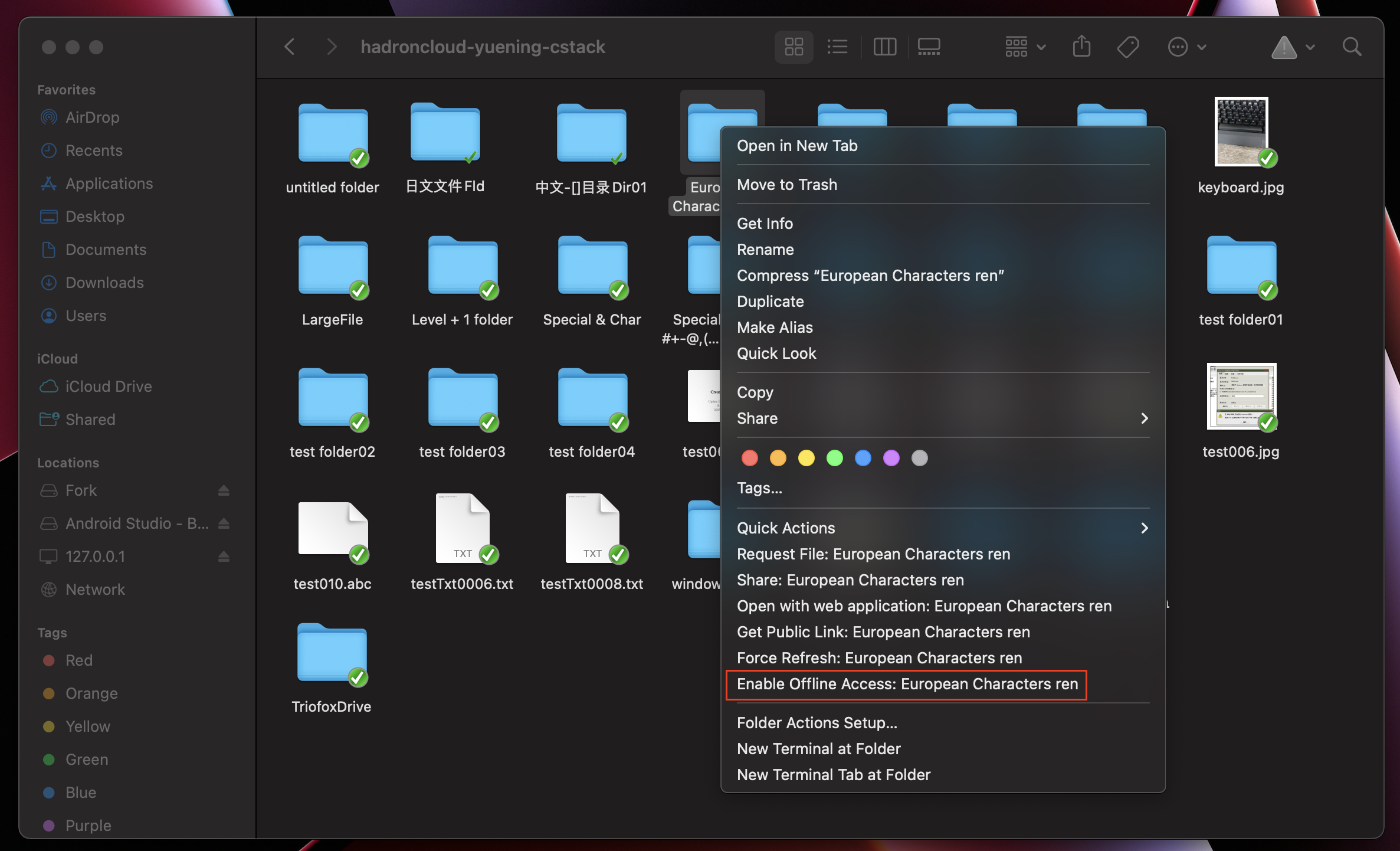 Once a folder has been marked as offline, it will be marked with a green filled check mark.